Natural singing gives voice to our soul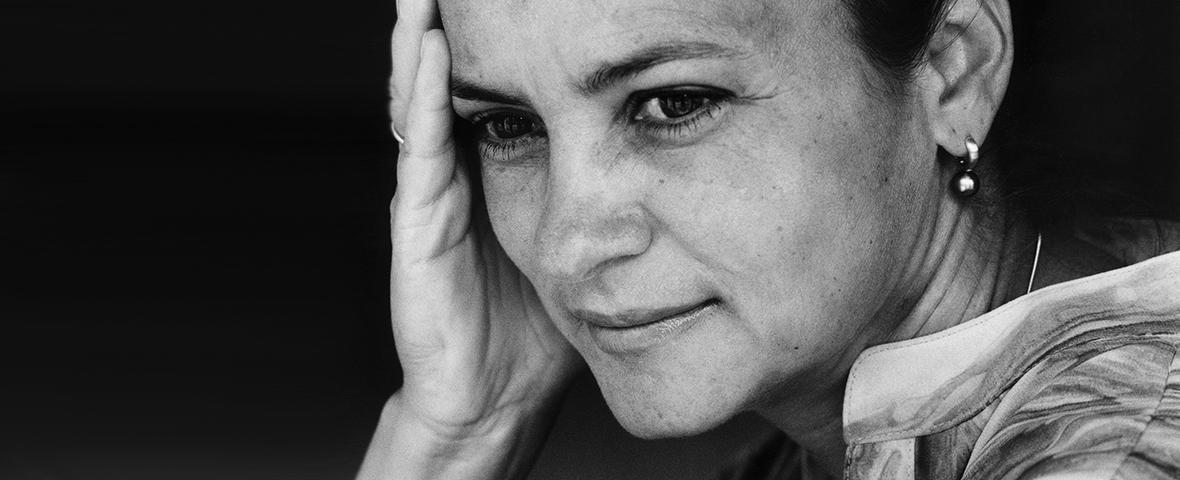 With the arts you can use your imagination.
Art is a bread and a treat!
An endless passion for music, for voices,
for discovery, for people, for life.
Iva Bittová's countryman Milan Kundera wrote how Europe's "small nations" form another Europe. The violinist-vocalist may be 'small nation' Czech but her musical worldview and visionary creativity acknowledge no borders. Her powers of spontaneous creativity are more bountiful than it is fair to confer on one person. Witness and marvel.
[50 words] by Ken Hunt
Iva Bittová was born in 1958 in Bruntál in northern Moravia in what was then Czechoslovakia – and nowadays the Czech Republic. Both of her parents were musicians. Her mother Ludmila was a pre-school teacher who spent most of her life with her family; her father Koloman Bitto – Bittová is the surname's female form – was a musician strongly influenced by the land of his birth – southern Slovakia. His main instruments were string bass, cimbalom, guitar, and trumpet. This exceptional ability to play almost any instrument he laid his hands on, whether performing in classical or folk music styles, proved a major influence on his three daughters as they grew up. Both of Iva's sisters – her older sister Ida and her younger sister Regina – are professional drama and music performers.
Iva attended drama pre-school, specializing in violin and ballet. In due course she gained admittance to the Music Conservatory in Brno, often called the Czech Republic's second city. She graduated in drama and music. During her studies, Iva took part-time engagements as an actress and musician in Brno's Divadlo Husa na provázku (Goose On A String Theater). She cites these engagements as some of the most formative and influential of her life.
Around this time she also featured as an actress in radio, TV and movie productions. Later on, while working full time in theater, she re-kindled her interest in playing violin, an instrument she had set aside in her younger years. After her father's early death, she decided to follow in his professional footsteps as an instrumentalist and by composing her own music.
The violin has become
her life's passion
In 1982, Iva started studying with Professor Rudolf Šťastný, the primarius (first violin) of the Moravian String Quartet. In the intervening years the violin has become her life's passion and the most inspiring musical instrument in her professional life. Iva firmly believes that, as playing the violin places extreme demands on musicians, the composer's work depends utterly on commitment and diligence.
After living in the countryside near Brno for 25 years, Iva decided to relocate her personal and professional life to the United States. In the Summer of 2007, she settled amid the splendors of nature in upstate New York. Iva shares her Hudson Valley home with her younger son Antonín (born 1991) – also a dedicated musician and another chip off the Bitto block.
In 2015 she studied at the Academy of Ancient Music / Musicology at the Masaryk University in Brno and received a bachelor's degree and in 2018 graduated on her master degree.
LISTEN TO THE VOICE
"For many years, I have worked in a range of musical genres, including jazz, rock, classical and opera. Deciding on a name for my style of music is far from over yet. Whatever it is, many of my listeners have long considered it highly original. It has always been everyday life that inspired my music and interpretations. Its inspiration has been total silence and an absolutely positive atmosphere. Those are the most important conditions and surroundings in which when my ideas spring into life. I believe they have a significant impact on my music."
"The violin accompanies me all the time. Everything around me is under its influence. There are difficult pieces to practice from which I gain discipline, confidence, and self–control – and a healthy measure of doubt. The violin is a mirror reflecting my dreams and imagination. I believe there are fundamentals to my performance, such as the music's vibration and resonance between violin and my voice. Their 'symphony' leads me on to perfection, even though I know it never can be attained."
A musical miscellany

Performances and collaborations with other musicians
Antonín Fajt, Paolo Angeli, Barbara Maria Willi, Bill Frisell, BOAC All Stars, Bobby McFerrin, Calder Quartet, Škampa Quartet, David Dorůžka, David Krakauer, David Moss, DJ Javas, Don Byron, Emil Viklický, Ethel Quartet, Fred Frith, George Mraz, Hamid Drake, Ida Kelarová, Ivo Viktorin, Jaromír Honzák, Jiří Bulis, Jiří Stivín, dívčí sbor Lelky, dívčí sbor Babačka, Lisa Moore, Pauline Oliveros, Marc Ribot, Marek Eben, Marek Štryncl, Miloš Štědroň, Miloš Valent, Netherlands Blazers Ensemble, Kumštýři z ochoty, Pavel Fajt, Phil Milton, Pierre Favre, Richard Müller, Solamente Naturali, Susumu Yokota, Škampa Quartet, Tom Cora, Vladimír Godár, Vladimír Václavek, Timothy Hill, Michael Bisio, David Rothenberg, Orchestry: Pražská, Brněnská, Ostravská, Budějovická, Bratislavská, Košická filharmonie, Cleveland a San Francisco symphony orchestra.
Remarkable settings for Iva Bittová's performances
Prague, Rudolfinum – Dvořák's Auditorium; Brussels – Le Botanique; Amsterdam – Concertgebouw; Barcelona – Museum J. Miro; Tokyo – Radio FM Hall; London – Wigmore Hall and Purcell Room; New York – Carnegie Hall; Paris – Le Cigale; Dolomites (Italy) – a performance at the altitude of 2000 meters above sea level; Moravský Kras – Cave Kateřina
TV filmography
The Diary of One Who Disappeared (TV movie)
L.Janáček: Zápisník zmizelého
Musical/Drama, Czechoslovakia, 1979, 35 min
Director: Jaromil Jireš
Screenplay: Jaromil Jireš
Camera: Jaromír Šofr
Music: Leoš Janáček
Starring: Ivan Luťanský, Iva Bittová
translantion Ken Hunt, David Olša
The Clinic
USA, 2018, 15 min 40 sec
With Marsha Stephanie Blake, Ellen Parker, Eric Sheffer Stevens, Maren Lord
Music by Iva Bittová
A Minjo Studio Production / Produced by Min Ding & Jonah Bleicher
Written, Directed, & Edited by Jennie Allen
Casting Director Rori Bergman
Director of Photography Andres Karu
Sound Design & Mix by Tyler Wood
Additional Photography by Anthony Masina
Production Design by Deana LeBlanc

Movies
1978 – principal acting role playing the part of Jolanka in director Dušan Hanák's motion picture Růžové sny (English title: Rose-tinted Dreams) (Czechoslovakia), presented at The International Film Festival in Tehran (Iran) and awarded Best Original Screenplay
1979 – principal acting role as Eržika in director Vladimír Sís' film Balada pro banditu (English title: Ballad for a Bandit) (Czechoslovakia) presented at the Hradec Králové (Czechoslovakia) Film Festival and Best Actress in a Leading Role award
2004 – principal acting role as Žeňa in Ondřej Trojan's motion picture Želary (Czech Republic), nominated for 76th Annual Academy Award (Oscar) in the category Best Foreign Language Film
2006 – violin-and-voice soloist in James Kent's BBC (Great Britain) music documentary Holocaust – a Music Memorial film from Auschwitz awarded the prize for Best Music Document 2006 in New York
2006 – lead female role as Julia in Alice Nellis' motion picture Tajnosti ('Secrets') (English title: Little Blue Girl) (Czech Republic).
2008 – Little blue girl awards
Český Lev 2008 Praha CZ /nomination for best actress, movie of the year/
Finale 2008 Plzeň CZ /movie of the year/
Slnko v sieti 2008 Bratislava SK /best actress/
Inernational film festival Syracuse NY USA 2008 /best actress, director, editor/

Music
Several records in the Czech(oslovakian) music charts
Record of the Year 1988 – Bittová & Fajt (1987) by Panton Publishing Co., (Czechoslovakia)
Four awards from the Czech Musical Academy for Record of the Year
Several awards from the Czech Musical Academy for Singer of the Year
Winner of the 2006 Brno-Top 100 Chart as Personality of the Year
Live performances at national State Ceremonies, such as the 1999 Hrad performance with the Škampa Quartet for president by Václav Havel and such guests as George Bush Jnr, Mikhail Gorbachev, Helmut Kohl and Margaret Thatcher.
Awarded Medal of Masaryk University in Brno in the celebration of 100 years since the founding of the university 1919.
"… a forward thinking composer who sings and plays violin simultaneously… Her sound isinvigorating, urgent, and also soothing; it is a fusion of Old World and new-music sensibilities,infused with the spirit and language of Czech, Slovak, and Moravian music."–New York Magazine
"Her vocal and instrumental technique is formidable, but what is most impressive is theimaginativeness of her excursions. (She) plays music that mixes elements of both deep ethnic traditions and the classical avant-garde. At its best, it really does have the strengths of a self-created folk music, unique and idiosyncratic, but with the stark power of Balkan singing or Hungarian fiddling." –The Boston Globe
"…an innovative artist who shows how even one small body can transform a world of noise into stunning music."
-Los Angeles Times
"She has a chameleon of a voice - sweet and pure, earthily percussive, hauntingly melismatic and even with a touch of rock. … an album that builds with power and contains one musical surprise after another." –Denver Post
"With intimacy and grace, she bridges the gap between the Czech folk tradition and the avant-garde. Her voice can gently and beautifully warble oblique poetry one minute, garrulousabstractions the next. Bittová's unique charm gives her work a constant air of accessibility."–Request
"Traces of Bittová's life, from her formative years in tiny villages to her apprenticeship in a toy shop to her performances with an avant-garde theater troupe, creep into every shadowy corner of her music. Her violin playing can be lilting and lovely, infused with nostalgia, and it can also splinter into shards of scraped, raw sound or constrict into tense clusters of pizzicato. Her singing ranges from lullaby-sweet to tunelessly feral." –L.A. Weekly
"Iva Bittová is an extraordinary artist. Raw and refined, passionate and contained, she has the soul of a gypsy, the voice of a troubadour, and the mind of a genius."– NPR/All Things Considered
"The Czech violinist, vocalist and composer Iva Bittová is one of Europe's great musicalinnovators and traditionalists. She is also one of those truly rare musicians capable of an artisticbalancing act that maintains a nodding acquaintance with the musical rule book while having apassionate affair with non-conformity." –Jazzwise, UK
"Ms. Bittová is a true cosmopolitan, but she remains grounded in local expressions, and her own physicality. She takes on the role of the singer as town crier whose voice animates the old myths and current news. Ms. Bittová's town is her self, ruled by the rhythms of sexuality, the flights of her imagination and the realities of modern social life. –The New York Times